Muffin Man
DVD
Standard Edition
NTSC
Catalog #000-2-SDDVD-N
Muffin Man DVD - Standard Edition

Special Features:
Behind the scenes footage
Director/Executive Producer commentary
Trailers
Number of Disks: 1
$10.95
Muffin Man
DVD
High Definition Edition
NTSC
Catalog #001-9-HDDVD-N
Muffin Man DVD - High Definition Edition

See Muffin Man the way it was meant to be seen - in GLORIOUS HIGH DEFINITION! The HD Edition is a two disk set, with the "Standard Edition" disk plus a Bonus WMV-HD Disk playable on a PC running Windows XP, Vista or Win7 (see FAQ for system requirements)

Special Features:

Behind the scenes footage
Director/Executive Producer commentary
Trailers
Number of Disks: 2
Muffin Man Special - Order the HD Edition and receive a FREE Soundtrack CD!
$14.95
Muffin Man
Soundtrack CD

Catalog #006-4-CD

A Selection of Songs from Muffin Man

Muffin Man Squat (Preview and Lyrics)
Celilo (preview)
Without You (preview)
Ride (preview)
Going Off (preview)
Pump (preview)
Roli Poki (preview)
Plus, a selection of instrumental tracks custom scored for Muffin Man by JohnnyB!
$9.99
This page is for delivery to destinations inside the US.

International Customers, please order from
this page.
DVD and CD shipping charges are $4.50 for the first item and $2.50 for each additional item.
T-Shirt shipping charges are 5.00 for the first item and 3.50 for each additional.
Washington State residents pay 8.8% Sales Tax.
Need more info? See our FAQ
Still have questions? Email us at info@MuffinManTheMovie.com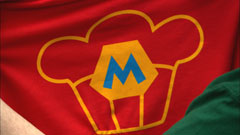 Muffin Man T-Shirt
* 100% Cotton
* Better than an "I'm with stupid ->" shirt
* Available in the following sizes:
S, M, L, XL, XXL, XXXL, and yes, XXXXL