Muffin Man
DVD
Standard Edition
NTSC
Catalog #000-2-SDDVD-N
Muffin Man DVD - Standard Edition

Special Features:
Behind the scenes footage
Director/Executive Producer commentary
Trailers
Number of Disks: 1
$10.95
Muffin Man
DVD
High Definition Edition
NTSC
Catalog #001-9-HDDVD-N
Muffin Man DVD - High Definition Edition

See Muffin Man the way it was meant to be seen - in GLORIOUS HIGH DEFINITION! The HD Edition is a two disk set, with the "Standard Edition" disk plus a Bonus WMV-HD Disk playable on a PC running Windows XP, Vista, or Win7 (see FAQ for system requirements)

Special Features:

Behind the scenes footage
Director/Executive Producer commentary
Trailers
Bonus Disk with HD version of Muffin Man
Number of Disks: 2
Muffin Man Special - Order the HD Edition and receive a FREE Soundtrack CD!
$14.95
Muffin Man
Soundtrack CD

Catalog #006-4-CD

A Selection of Songs from Muffin Man

Muffin Man Squat (Preview and Lyrics)
Celilo (preview)
Without You (preview)
Ride (preview)
Going Off (preview)
Pump (preview)
Roli Poki (preview)
Plus, a selection of instrumental tracks custom scored for Muffin Man by JohnnyB!
$9.99
This page is for delivery to destinations outside of the USA.
The only difference in pricing is the shipping charges.
International DVD and CD shipping charges are $7.50 for the first item and $3.50 for each additional item.
T-Shirt shipping charges are 8.50 for the first item and 4.50 for each additional.
Muffin Man is enabled for ALL REGIONS, but the "standard" DVD is NTSC only. If you are in a PAL country and you have a PC that meets the system requirements, please order the HD Edition.
Need more info? See our FAQ
Still have questions? Email us at info@MuffinManTheMovie.com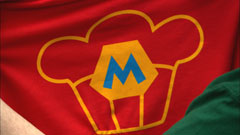 Muffin Man T-Shirt
* 100% Cotton
* Better than an "I'm with stupid ->" shirt
* Available in the following sizes:
S, M, L, XL, XXL, XXXL, and yes, XXXXL